Argentina Durán: talent, preseverance and discipline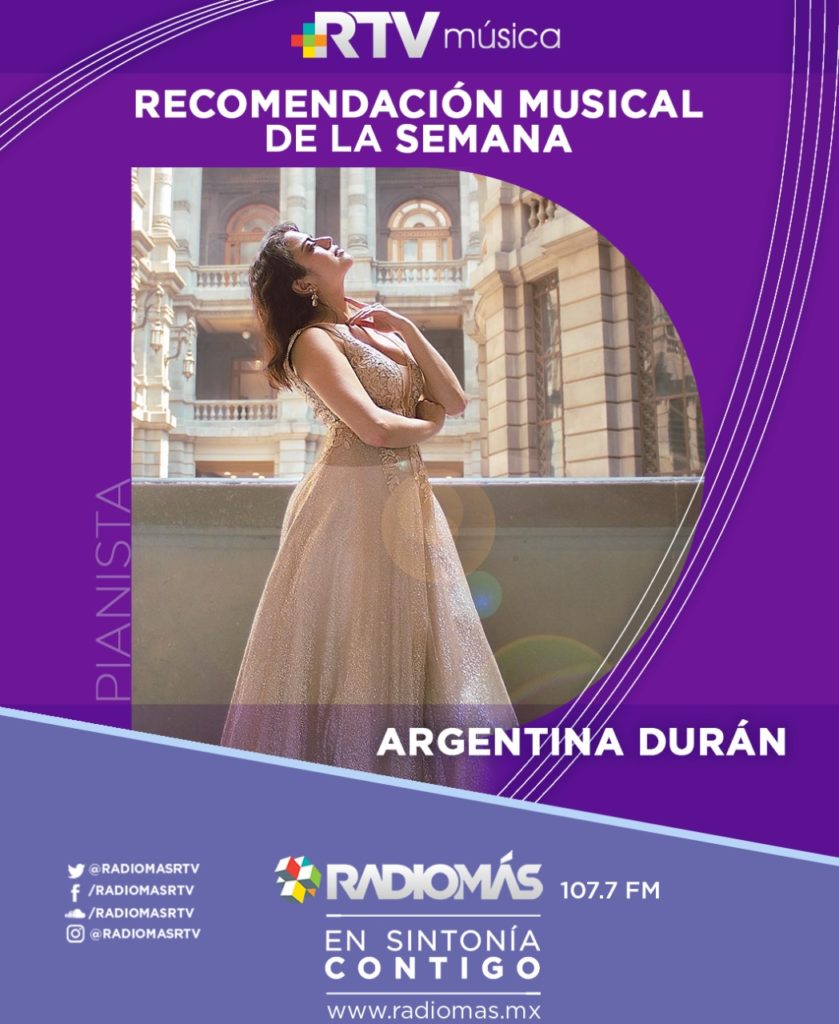 With a long journey on different stages and thousands of followers on social media, she is the Mexican pianist with the greatest national and international presence thanks to her talent and dedication since her early years. She recently performed in her native Xalapa with the Beethoven Gala, accompanied by the independent Filarmonía orchestra.
She is Argentina Durán, and today she is the pianist of the ´Orquesta Sinfónica Nacional´. She has offered recitals in various stages in the United States, Europe and Asia, highlighting her activity as soloist with t Symphony Orchestra of Xalapa, the San Luís Potosí Symphony and the Symphony Orchestra of the Instituto Nacional Politécnico.
Likewise, she has performed concerts in the main hall of the Palacio de Bellas Artes, the Blas Galindo Hall of the Centro Nacional de las Artes and other important venues in the country; She was invited as a soloist of the Orquesta de Cuerdas Juvenil Eduardo del Pueyo in the city of Granada, Spain.
She has performed with the soprano María Katzarava at the Consulate of Mexico in Fresno, California and at Expo Dubai in 2022. She was a professor of the piano degree at the UNAM Faculty of Music, and is also invited to participate as a jury and to offer master clases in festivals such as Festival Internacional de Piano Papantla, Festival Nacional Infantil y Juvenil las Notas de Guido, Sociedad Artistica Sinaloense, Concurso Latinoamericano América Para Todos, Concurso Latinoamericano Pianistas Jóvenes en Colombia, among many others.
The artista from Xalapa is a graduate of the Faculty of Music of the Universidad Veracruzana (UV) and has a master´s degree in interpretation of Mexican classical music from the National Conservatory of Music.
She began her career as a soloist at the age of 11 with the orchestra of the UV Centro de Iniciación Infantil and won her first contest to play as a soloist in the Xalapa Symphony Orchestra.
Throughout her career, renowned pianists such as Martha Argerich, Khatia Buniatishvili, Yulianna Avdéieva and Olga Kern have influenced her musical style, while considering them as an inspiration for life.

Likewise, preseverance, and discipline have been fundamental factors in her professional growth, coupled with her undeniable talent. However, she comments that to clear her mind of more complex harmonies, she often listens to other musical genres such as Salsa, Electronic music, Jazz and ´Son Jarocho´.

Argentina was awarded scolarships by federal entities such as the Fondo Nacional para la Cultura y las Artes (FONCA) and the Consejo Nacional de Ciencia y Tecnología (CONACYT), as well as by the Chicago College of Performing Arts of Roosevelt University in Chicago, IL to study piano performance with Master Jorge Federico Osorio.

Argentina Durán, who will perform this December 9th at the Manuel M. Ponce Hall of the Palacio de Bellas Artes, in Mexico City, is our musical recommendation of the week. Listen to her through the frequencies and digital platforms of Radio Más.
---