The Day of the Dead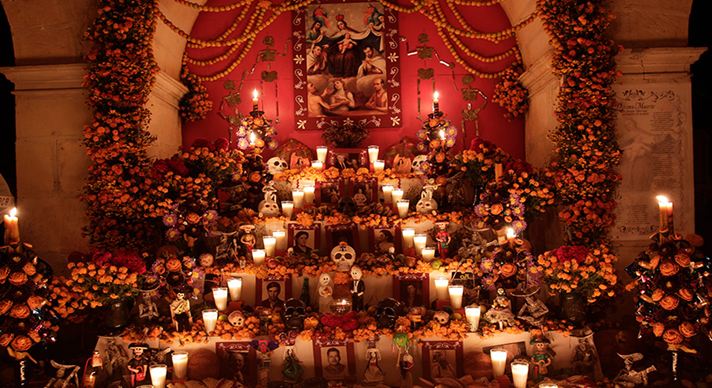 From late October and early November, Mexico is filled with altars, catrinas and offerings where the dead are welcomed and venerated. The Day of the Dead, one of the most important festivities in the country, has its origin more than 500 years ago, in the union of pre-Hispanic and Catholic traditions. It celebrates the transitory return to Earth of deceased relatives and loved ones, who cross the Mictlan to be with the mortals.
The Origins
The origin of this tradition comes from this commemoration that the indigenous people carried out in pre-Hispanic times along with the celebration of the Catholic religious rituals brought by the Spaniards. The ancient Mexicas, Mixtecs, Texcocanos, Zapotecs, Tlaxcaltecs, Totonacs and other native peoples adopted the veneration of their dead to the Christian calendar, which coincided with the end of the corn agricultural cycle.
According to the Catholic calendar, November 1 corresponds to All Saints Day, a day dedicated to the «little dead» or children, and November 2 to the faithful departed, to adults.
Common traditions
Although each Mexican region has its own traditions, they all share common traits. One of the most important is the placement of altars. They include cempasúchil petals, candles and food such as pan de muerto, made from corn and other vegetables and very typical in pre-Hispanic ceremonies and festivities. Currently, this bread is made with wheat flour, sugar, egg, yeast and is decorated with a figure of crossed bones sprinkled with sugar.
The altars also include copal, an aromatic resin whose smoke is considered food for the celestial divinities, as well as handcrafted objects, and the favorite delicacies of the deceased, specifically fruit, papel picado, seven plates with black mole, with seven piles of tortillas for the dead, pieces of cooked chicken or turkey, tamales, coffee and hot chocolate, an incense burner like tecolcaxit, holy water, the image of the most important saint and the image of the deceased.
Another common characteristic is the decoration of the tombs and cemeteries, which are filled with flowers and candles to honor the dead. It is common for families to place offerings along the path from their homes to the cemetery.
The literary claveritas
Literary claveritas are writings in verse. They began to be written during the 19th century and became very popular in the 20th century. They are made in order to talk about death with a good sense of humor. They are usually dedicated to people close to us, although they are also used with social and historical themes.
---